Content begins here
Main page content
Click to collapse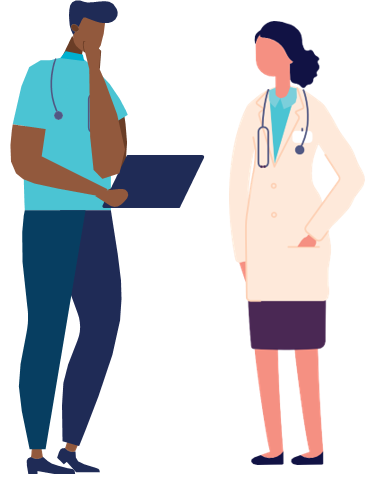 LEARNING OBJECTIVES
By the end of this module the learner should:
Know what role they can play in prevention, early identification and management of hearing loss and ear diseases.

Be able to counsel people regarding the Dos and Donts of ear and hearing care

Understand simple steps that can protect ears against loud sounds including music.
TERMINOLOGY
–– Ear care
–– Ear protection
–– Early identification Safe listening
–– Hearing loss prevention
–– Rehabilitation
HEALTH WORKERS CAN PLAY AN IMPORTANT ROLE IN PREVENTION, TREATMENT AND REHABILITATION OF EAR DISEASE AND HEARING LOSS. 
Your responsibilities include:
Identifying and treating common ear diseases

Providing guidance for people whose ear diseases require referral

Identifying children and adults that could have hearing loss at the earliest and guiding them for testing and rehabilitation

Teaching people how to: care for discharging ears; take care of hearing aids; communicate with those who have hearing loss

Informing people how to prevent hearing loss and protect ears

Educating your community and raising awareness

Supporting people with hearing loss to integrate in society
9.1 RAISING AWARENESS AND EDUCATING COMMUNITIES
Many cases of hearing loss can be prevented. Health workers have a responsibility to raise awareness and educate communities about the prevalence of hearing loss and how to prevent it. Small steps that can help to prevent hearing loss are:
Vaccination, especially in girls against rubella, measles, mumps, meningitis.

Ensuring that mothers and babies receive good care before, during and after birth

Protecting ears from loud sounds at work and in the environment (learn more about noise and hearing loss on…..)

Safe listening to prevent hearing loss due to loud music listening

Knowing that some medicines can affect your ears. Inform people that they should ask their doctor if the medicines can affect your hearing and how this can be avoided

Taking good care of one's ears by practicing the Dos and Donts listed.
9.2 FACILITATE EARLY INTERVENTION
Since early identification is crucial to address hearing loss well, health workers can facilitate this:

By being alert and suspecting hearing loss

Checking hearing without equipment

Stressing the importance of early identification and rehabilitation.
9.3 SUPPORTING PEOPLE WITH HEARING LOSS
Health workers can do a lot to support people with hearing loss by following and spreading simple practices:
 
How to speak with someone who is hard of hearing
Speak clearly and slowly. Don't shout!

Stand in good lighting and face the person so they can see your face when you speak

Do not exaggerate or distort lip movements as this might make it harder for the person to follow what is being said.

Try to keep background noise to a minimum, especially at school and at work, as loud background noise can make it difficult for someone with hearing loss to hear, even with a hearing aid.

If there is person with hearing loss in a group (social, family or work) ensure people talk one at a time. This enables the hard of hearing person to be included in conversations.

How to support someone with a hearing loss or deafness
Suggest they visit the clinic and get their ears checked.

Encourage the person to have their hearing tested to see if they may have a hearing loss.

Support the use of hearing devices if available, and ensure that the battery is not dead, or if the tubing is blocked with wax.
Young children and older adults may require more assistance with this.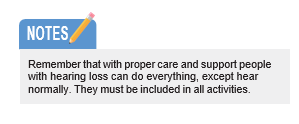 Make others aware of the person's hearing loss so that they can position themselves close to the person in conversation, ensuring their faces are well-lit and fully facing the individual with hearing loss.
How to support children with hearing loss or deafness
Children have unique struggles when dealing with hearing loss, and that requires specific methods of support.
Some of these methods are outlined here:
Help the child learn to self-advocate for their needs at home and at school, for example encourage the child to inform the teacher or parent when the hearing aid stops working, or when repetition of speech is needed

Inform the teacher of the child's hearing loss and encourage the teacher to face the child directly as much as possible. E.g. face the child when speaking and at a close distance, while maintaining eye contact.

Inform parents and teachers about sign language and encourage them to learn this as a mean of communication