Content begins here
Main page content
Click to collapse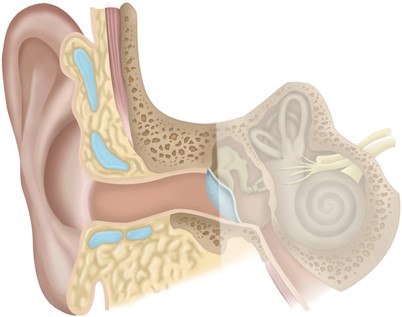 LEARNING OBJECTIVES
In this module learners will learn about:
Structure of the outer ear

Common diseases of the outer ear including pinna and ear canal

How to remove ear discharge and foreign bodies from the ear through a washout

Actions they can take to treat these problems in the community

Treatment which may need to be given by specialists for the conditions

When to refer patients with outer ear problems to a doctor/specialist
TERMINOLOGY
–– Care of ears
–– Cartilage
–– Deformities of the pinna
–– Foreign body in ear canal
–– Fungus otitis externa
–– Haematoma of the pinna
–– Infection of the pinna
–– Injury of the pinna
–– Otitis externa
–– Pre-auricular sinus
–– Swelling of pinna
–– Tragus
–– Treatment with eardrops
–– Washout of the ear
–– Wax
3.1 STRUCTURE AND FUNCTION OF OUTER EAR
The pinna and the ear canal together make the outer ear. The pinna is made of cartilage covered with skin. The front part of the pinna is called the tragus. The pinna collects sound and sends it into the ear canal.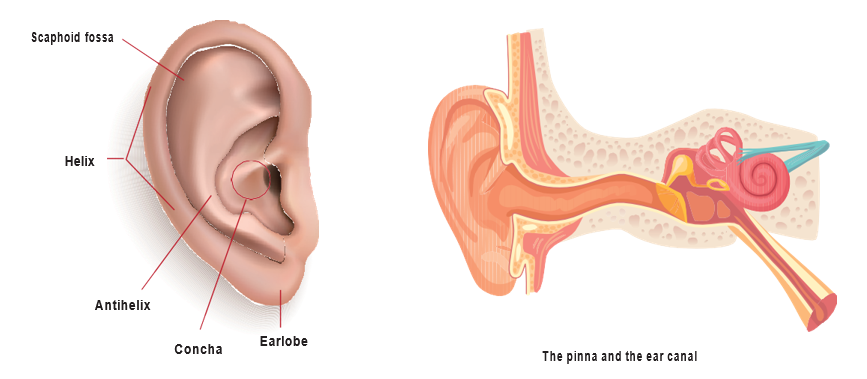 The ear canal is a tube of skin that leads to the tympanic membrane (ear drum). In the outer part of the ear canal, the skin has hair and underneath the skin there is cartilage. Deeper in the ear canal the skin is thin, has no hair, and is stuck to bone. This deeper skin can be painful if it is touched.

The ear canal makes yellow or brown coloured wax. Wax is made by the body to clean the ear of dirt and normally comes out of the ear by itself.
3.2 WHAT COULD YOU SEE WHEN YOU EXAMINE THE OUTER EAR?
When you examine the pinna and the ear canal, you could find them to be normal or see some abnormalities.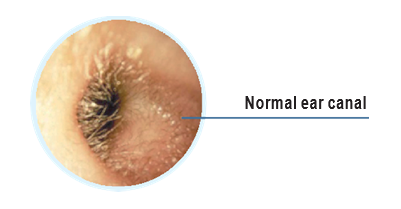 The table below describes the sort of problems you could find when you examine the pinna or the ear canal.
TABLE 3A: WHAT DO YOU SEE (OUTER EAR)?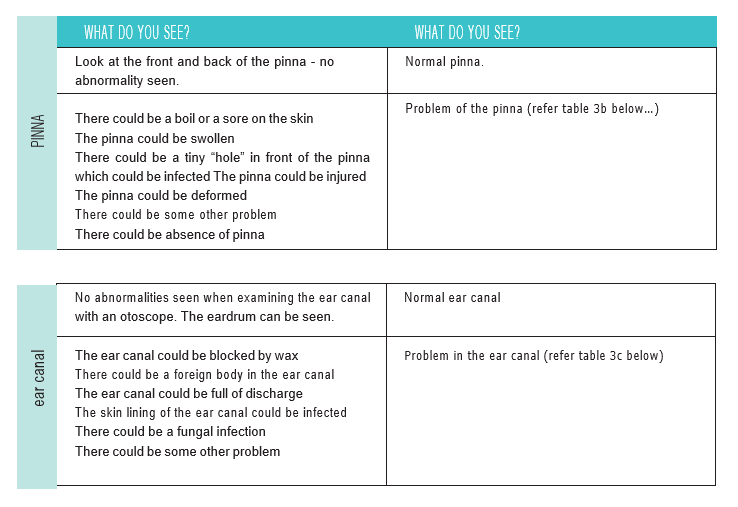 3.3 PROBLEMS OF THE PINNA
When you examine the pinna you may see certain abnormalities:
TABLE 3B: PROBLEMS OF THE PINNA: FINDINGS AND MANAGEMENT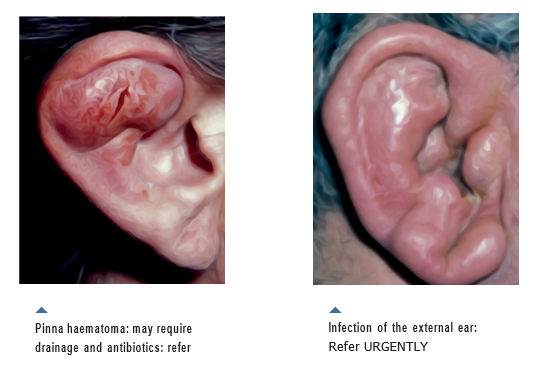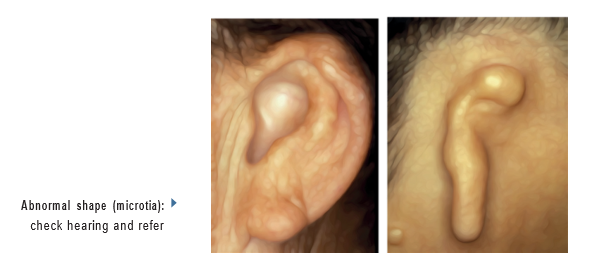 3.4 PROBLEMS OF THE EAR CANAL
TABLE 3C: PROBLEMS OF THE EAT CANAL (THROUGH AN OTOSCOPE) AND THEIR MANAGEMENT

NOTES:
Wax: people commonly use cotton buds to clean the wax from their ear canals. This is HARMFUL. Cotton buds should only be used outside and NEVER INSERTED into the ear canal.
3.5 TEACH PATIENTS TO CARE FOR THEIR EARS

Patients should be taught how to:
• put in eardrops at home
• clean their ears by dry mopping or wicking
• put the eardrops in regularly

Patients should return to the clinic regularly until the infection has cleared up.