Content begins here
Main page content
Click to collapse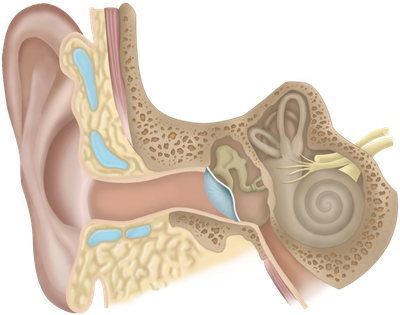 LEARNING OBJECTIVES
By the end of this module, the learners should be able to recognise
common ear complaints and what they could mean

how to take history in case of ear or hearing problems

how to examine the ear with use of an otoscope and what to expect when you do so

Hearing assessment is an important part of a complete ear and hearing check-up.
This part is explained in Module 7.
TERMINOLOGY
–– Bulb
–– Batteries
–– Dizziness
–– Eardrum perforation
–– Ear hygiene
–– Glue ear
–– History
–– Itchiness
–– Main symptoms of ear disease - hearing loss, otorrhea, otalgia
–– Otalgia
–– Otorrhea
–– Otoscope
–– Refer
–– Speculum
–– Tinnitus
2. HOW TO ASSESS EAR AND HEARING PROBLEMS?
In assessing ear and hearing problems there are three steps.

2.1 WHAT ARE THE SYMPTOMS OF EAR AND HEARING PROBLEMS?
Patients often complain of problems relating to ear and hearing. The most common symptom that you could face in the community are:
2.1.1 PAIN IN THE EAR (CALLED OTALGIA)

May be acute pain that can be due to

Acute infection in ear canal (acute otitis externa). The pain may commonly be accompanied by fever.

Acute infection of the middle ear (acute otitis media). Pain is commonly accompanied by fever and at times ear discharge.

Ear wax: hard, impacted wax in some cases can lead to severe pain in the ear.

Foreign body: Children may insert some object in their ear which can injure the ear canal or ear drum causing acute pain.

Injury over the ear


At time patients complain of long-standing, dull pain or heaviness in the ear. This can be due to:

Chronic infection in the ear canal

Glue ear, where fluid is present inside the middle ear.


Sometimes pain is felt in the ear when it is actually coming from the jaw, teeth, neck, or throat. Examining the ear should allow you to find if ear pain is caused by ear disease.

 2.1.2 EAR DISCHARGE (OR OTORRHEA)

Which refers to pus or liquid coming from the ear.

This is commonly due to infection in the outer or middle ear.

The discharge may be white, yellow, green or brown.

Sometimes there may be blood in the discharge. At times it may be smelly.

 

2.1.3 HEARING LOSS

At times, adults may say they have hearing loss. Often, when the hearing loss comes on slowly, they may not have noticed the problem themselves. Sometimes it is a friend or relative who notices that someone is not hearing or speaking loudly.

Children may be brought by parents with the complaint that they don't hear well. However, at times the parents complain of poor development of speech in the child or that s/he is not doing well at school or not paying attention. This can be a sign of hearing loss. It is important to remain vigilant and check the child's hearing.

2.1.4 OTHER SYMPTOMS OF THE EAR INCLUDE

Hearing noises in the ear, such as a buzzing or ringing sound, which we call tinnitus. Tinnitus can be caused by a problem in any part of hearing. It is often the first symptom of noise damage to the ear.

Dizziness means that a person might feel unsteady or feel that s/he could fall. Dizziness can be a symptom of inner ear disease though it can also be caused by problems in other parts of the body.

 Itching in the ear is a common complaint which may be due to dryness in the ear or wax accumulation. Severe itching may be caused by fungal infection or skin diseases affecting the ear canal. The ear should be examined.
2.2 EXAMINING FOR SIGNS OF EAR DISEASE
Once the history has been taken, the ear is examined. First examine the pinna. Then look in the ear canal and at the ear drum with an instrument called an otoscope. Examining the ear in this way is called otoscopy. Otoscopy helps to diagnose problems in the ear canal, middle ear and ear drum. Make sure to always examine both ears, even if the patient complain is in one ear only.
2.3 IDENTIFYING HEARING LOSS IN CHILDREN AND ADULTS
After examining the ears, you should check the person's hearing. There are different ways of doing so depending on the person's age. Detailed instructions on how to check for hearing are given in module 7.